Cross-posted from BCUSA:
________________________________________________
Made this out of some astoundingly ugly leather, after attempting to dye the leather I gave up and am now somewhat resigned to it.
Made in the Middle Ages fashion with a flap and a "neck." Button is a piece of buffalo horn left over from handling my GRK.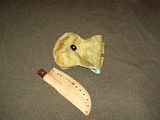 Belt loop detail: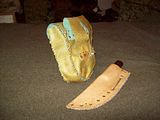 I had riveted it but the rivets were obviously a weak point with such thin leather, so I also bartacked it at key points.
Current contents: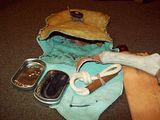 There's more in there... including my silver and my herb pouches.
This was my first time utilizing a gusset so it is terrible IMHO...first times always are at least in my experience. I almost sewed in some pouchlets or sleeves for small items, I might still do that eventually.
Cheers,
PMZ