Cross-posted from BCUSA:
______________________________________________________
Here is a small sheath for a double-edged sock knife I got a while ago. As it turned out, leather wasn't the best choice due to the shape of the hilt, esp. wetformed. Kydex would've been better. However it works all right as long as I don't turn it up side down (lol). This is the first time I made a sheath with a welted seam. I kinda like the "sturdy" feel it provides.
Pics: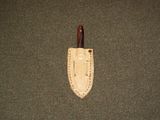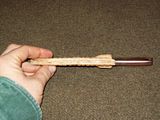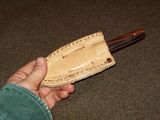 What I've been doing is a sort of reverse-saddle-stitch, where I single-line stitch it one way, and then at the other end I turn around and go back around again through the same holes, only the opposite direction. This way there is only one fuse-mark where I snip the sinew lol!
And here's another "Cutpurse's Delight" coin pouch: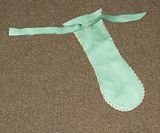 Cheers!
PMZ